Breakfast

from

the Farm- London, ON!
Join us October 2, 2021 at the Western Fair in celebration of Ontario Agriculture Week!
Tickets are $20 per vehicle and include:
Over $50 of Made-in-Ontario breakfast ingredients including pancake mix, eggs, maple syrup, milk, butter and more! (contactless pick-up and feeds approximately four people)
A drive-through pick-up featuring farm equipment, farm animals and chances to win local prize packs.
Access to LIVE virtual farm tours of local London-area farms.
The entrance to the event will be off Rectory Street.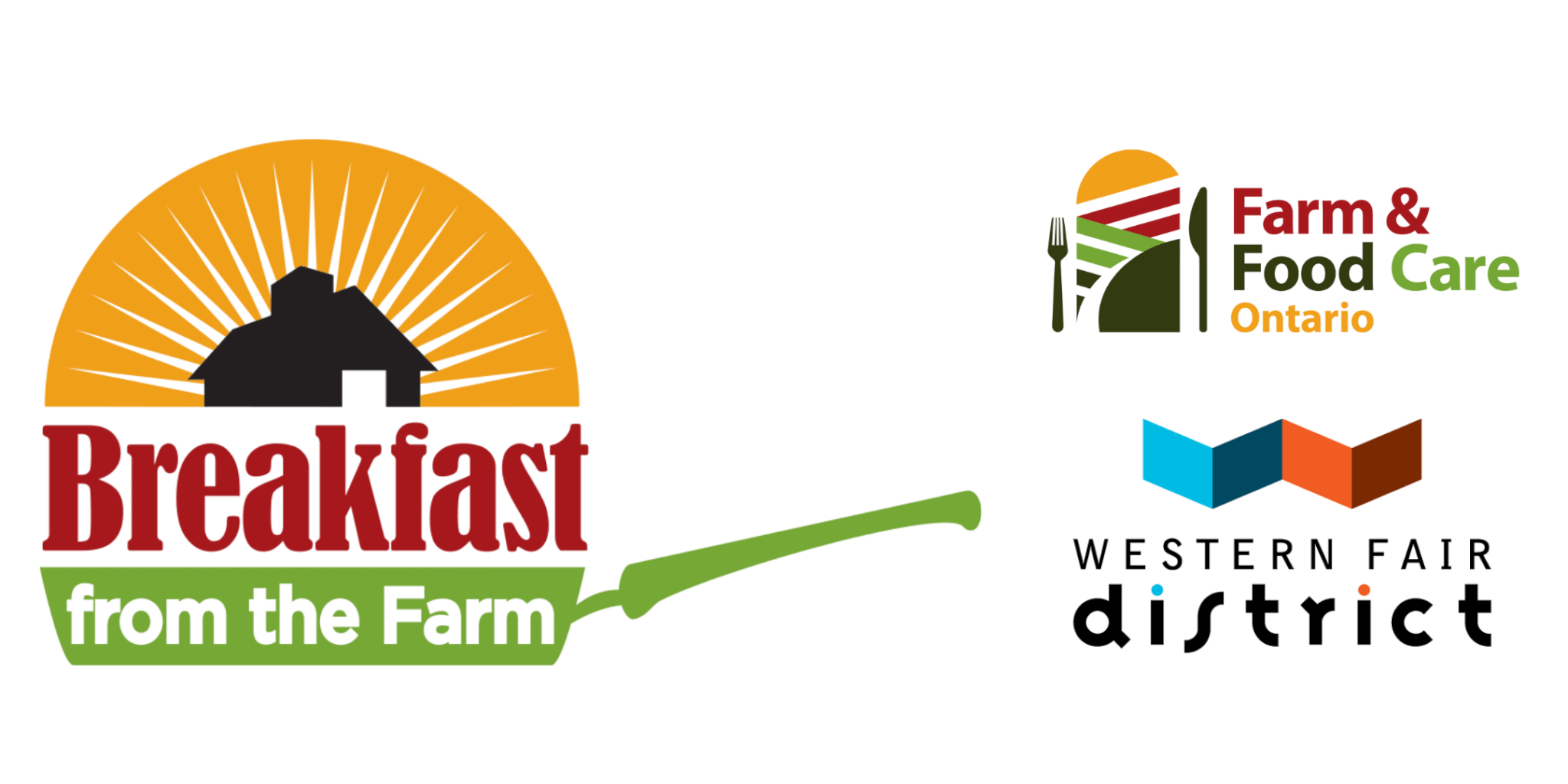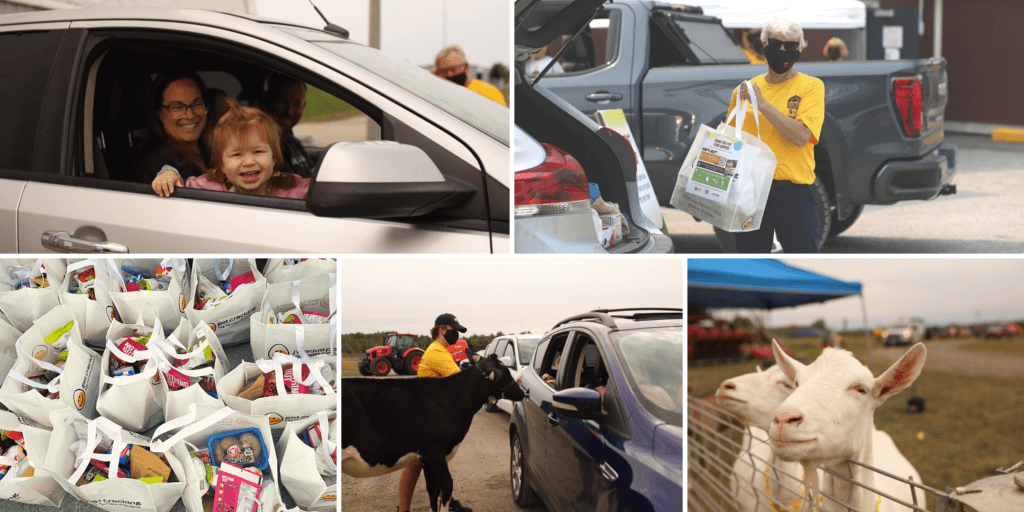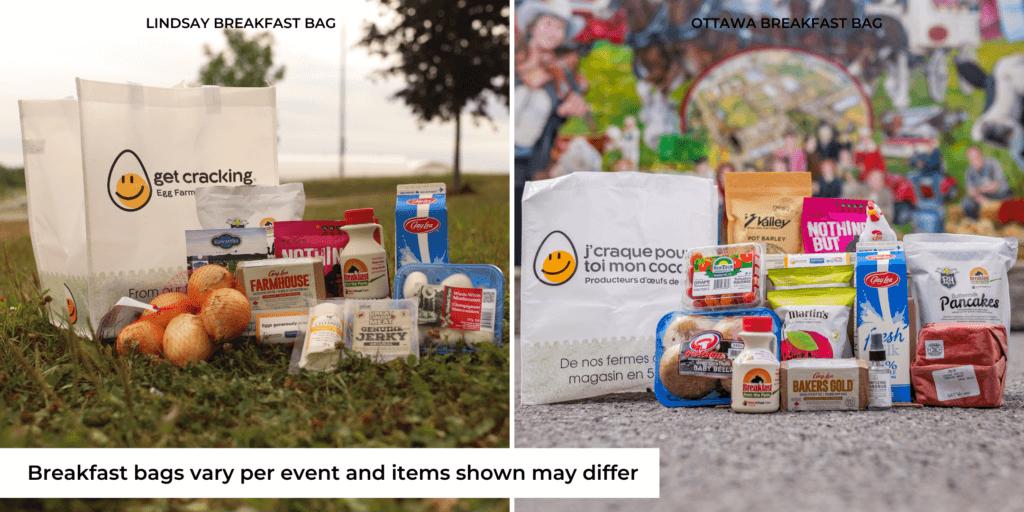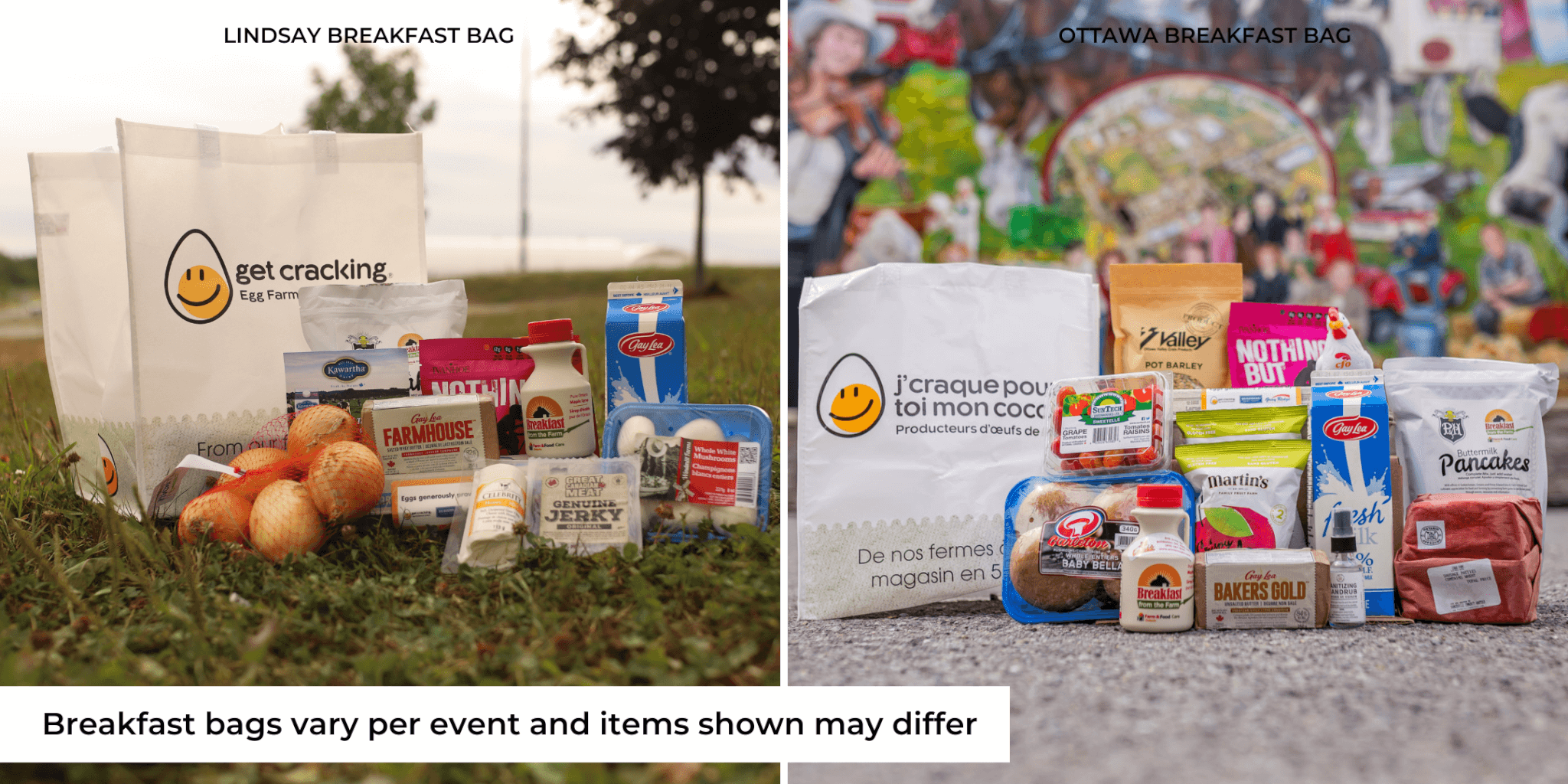 Don't forget to register for your ticket! There will be no on-site sales for the safety of our volunteers and guests.
Check out our past Breakfast on the Farm events. We look forward to hosting you in person and on the farm once again!
FAQs
Don't see your question below? Email info@farmfoodcare.org or DM us on social media @FarmFoodCareON.
Tickets can only be purchased online through Eventbrite and there are no on-site sales for the safety of volunteers and guests. Tickets can be purchased by clicking the "Get your ticket!" button on this page. 
Since there are no onsite ticket sales, beat the rush and order today before we sell out! Ticket quantities for each time slot are limited. 
After completing your purchase, you will receive a confirmation email with a link to download each ticket. You can either download your ticket onto your phone or print them for presentation at the admission gate. Tickets will be presented and scanned through your car window.
Please aim to arrive no more than 5 minutes early. Entry is only allowed at the specified time indicated on your ticket.
What if I arrive late?
Not to worry, all tickets will be honoured. There may be a wait to fit you into the queue.
Please note, missed dates will not be refunded.
No. For the safety of all guests and our volunteers, you will not be permitted to exit your vehicle.
Since 2014, Breakfast on the Farm has included a delicious, all-Ontario breakfast served right on the farm. This year, with the safety of our guests in mind, we decided to do things a little differently.
Breakfast in a Bag will include many of the ingredients needed to prepare a tasty breakfast for a family of 4. With the generous support of our partners, the bags will include food items like eggs, pancake mix, maple syrup, milk, butter and more!
The bags will also include activities for kids and resources with information about how food is grown and produced here in Ontario.
To ensure to safety of our volunteers and other guests and prevent the spread of COVID-19, we strongly encourage any ticket holders experiencing symptoms to share their ticket with friends or family and stay home.
To ensure to safety of our guests and volunteers, we have a number of safety measures in place.
In 2021, FFCO changed the format of this event to be drive-thru only and tickets will be available at staggered arrival times to limit the number of guests on-site at any given time. In addition, both registration and the "Breakfast in a Bag" pick-up will be contactless for guests. We've also added virtual programming throughout Local Food Week (June 7-13) to ensure a fun, positive learning experience in this new format.
You'll notice that our volunteers are equipped with personal protective equipment, including mandatory masks, and will be physically distancing throughout the event. Volunteers will be screened for COVID-19 on arrival. Volunteers with suspected symptoms or other risk factors will be asked to stay home.  Extra sanitization practices will be followed at registration and "Breakfast in a Bag" pick up.
There are no refunds, exchanges or credits towards future purchases. Tickets are transferrable though, so share them with friends or family if you are unable to attend.
The event is rain or shine. Tickets will not be refunded or exchanged. However, if extreme weather or other conditions pose a threat to the safety of visitors and volunteers, the event may be cancelled. Check our website, social media channels and/or your email inbox for cancellation updates.
By entering the event, ticketholders give Farm & Food Care and all persons or entities acting pursuant to FFC's permission or authority, all rights to use these images. Ticketholders understand that said images will be used for educational, advertising and promotional purposes in all conventional and electronic media, and any further media. Ticketholders authorize the use of any printed materials in connection therewith. Ticketholders understand and agree that these images and recording may be duplicated, distributed with or without charge, and/or altered in any form or manner without future/further compensation or liability, in perpetuity. As this is a drive-through event, all efforts will be made to blur license plates captured in photography. 
Breakfast from the Farm would not be possible without the generous support of our event partners!
Interested in partnership opportunities? 
This event is made possible by sponsors and partners who believe in the value of investing in their local community, and support these local initiatives. Demonstrate your support of food and farming in your local community and be recognized in our digital and on-site marketing!
See Breakfast from the Farm Lindsay partners here.
See Breakfast from the Farm Ottawa partners here.
See Breakfast from the Farm London partners here.