January 2011 - Julie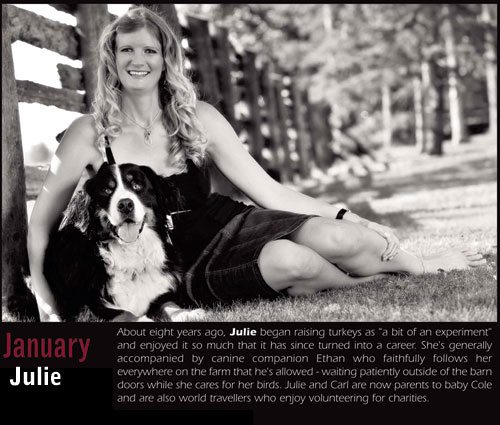 About eight years ago, Julie began raising turkeys as "a bit of an experiment" and enjoyed it so much that it has since turned into a career. She's generally accompanied by canine companion Ethan who faithfully follows her everywhere on the farm that he's allowed – waiting patiently outside of the barn doors while she cares for her birds. Julie and Carl are new parents to baby Cole and are also world travellers who enjoy volunteering for charities.
February 2011 - Fred and Brian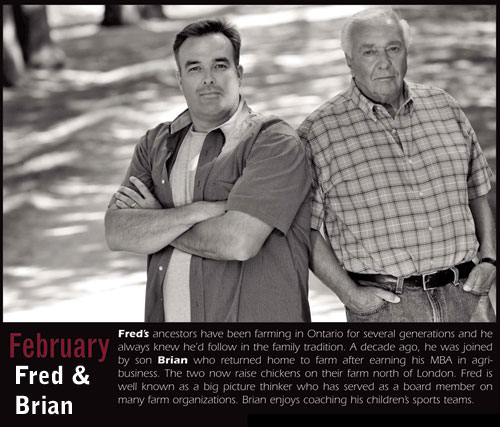 Fred's ancestors have been farming in Ontario for several generations and he always knew he'd follow in the family tradition. A decade ago, he was joined by son Brian who returned home to farm after earning his MBA in agri-business. The two now raise chickens on their farm north of London. Fred is well known as a big picture thinker who has served as a board member on many farm organizations. Brian enjoys coaching a variety of sports teams, especially his son's and two daughters' teams.
March, 2011 - Kyle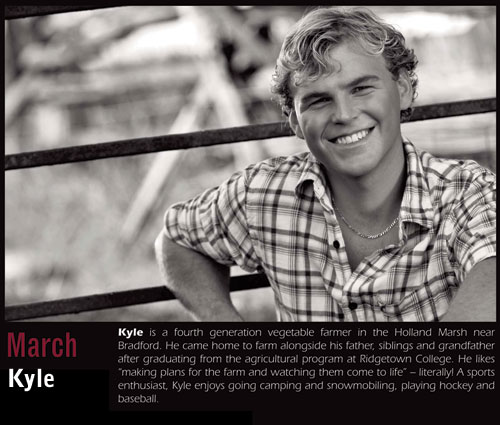 Kyle is a fourth generation vegetable farmer in the Holland Marsh near Bradford. He came home to farm alongside his father, siblings and grandfather after graduating from the agricultural program at Ridgetown College. He likes "making plans for the farm and watching them come to life." – literally! A sports enthusiast, Kyle enjoys going camping and snowmobiling, playing hockey and baseball.
April, 2011 - Roger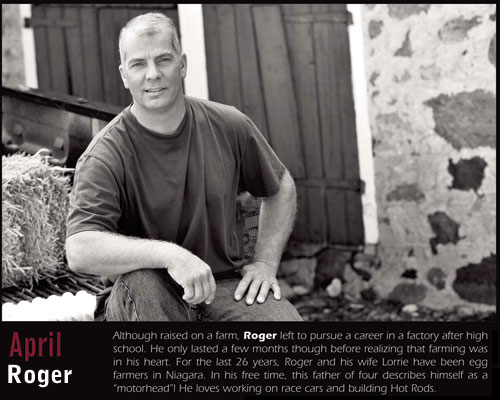 Although raised on a farm, Roger left to pursue a career in a factory after high school. He only lasted a few months though before realizing that farming was in his heart. For the last 26 years, Roger and his wife Lorrie have been egg farmers in Niagara. In his free time, the father of four describes himself as a "motorhead"! He loves working on race cars and building Hot Rods.
May, 2011 - Jen and Amy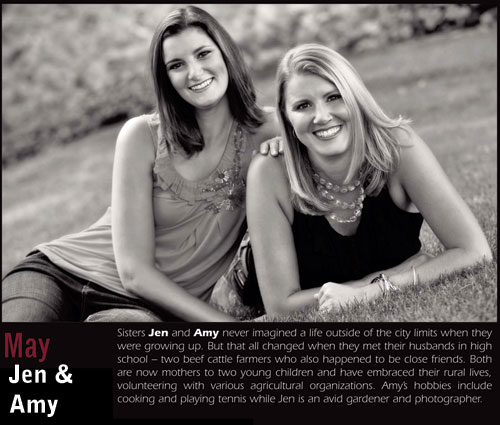 Sisters Jen and Amy never imagined a life outside of the city limits when they were growing up. But that all changed when they met their husbands in high school – two beef cattle farmers who also happened to be close friends. Both are now mothers to two young children and have embraced their rural lives, volunteering with various agricultural organizations. Amy's hobbies include cooking and playing tennis while Jen is an avid gardener and photographer.
June, 2011 - Marja, Barend and Matthijs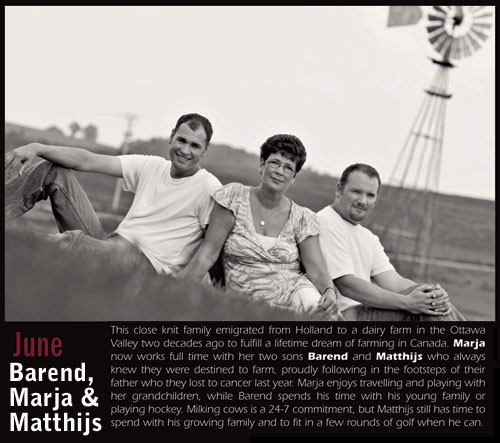 This close knit family emigrated from Holland to a dairy farm in the Ottawa Valley two decades ago to fulfill a lifetime dream of farming in Canada. Marja now works full time with her two sons Barend and Matthijs who always knew they were destined to farm, proudly following in the footsteps of their father who they lost to cancer last year. Marja enjoys travelling and playing with her grandchildren, while Barend spends his time with his young family or playing hockey. Milking cows is a 24-7 commitment, but Matthijs still has time to spend with his growing family and to fit in a few rounds of golf when he can.
July, 2011 - Rod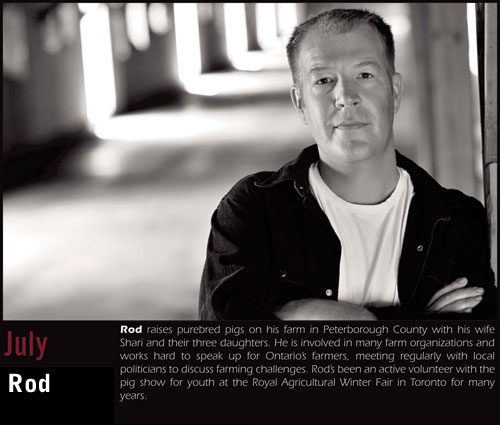 Rod raises purebred pigs on his farm in Peterborough County with his wife Shari and their three daughters. He is involved in many farm organizations and works hard to speak up for Ontario's farmers, meeting regularly with local politicians to discuss farming challenges. Rod's been an active volunteer with the pig show for youth at the Royal Agricultural Winter Fair in Toronto for many years.
August, 2011 - Otto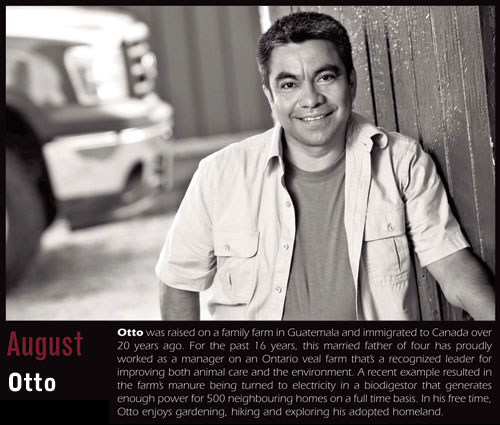 Otto was raised on a family farm in Guatemala and immigrated to Canada over 20 years ago. For the past 16 years, this married father of four has proudly worked as a manager on an Ontario veal farm that's a recognized leader for improving both animal care and the environment. A recent example resulted in the farm's manure being turned to electricity in a large biodigestor that generates enough power for 500 neighbouring homes on a full time basis. In his free time, Otto enjoys gardening, hiking and exploring his adopted homeland.
September, 2011 - Jack and Christine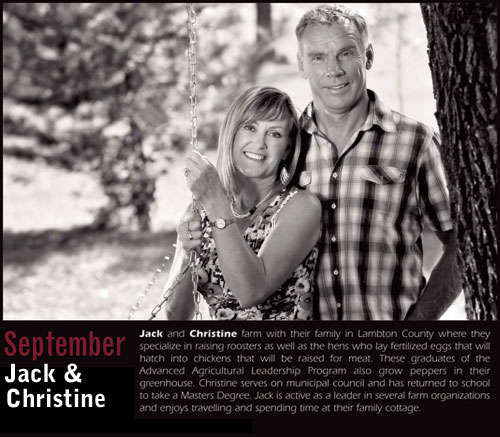 Jack and Christine farm with their family in Lambton County where they specialize in raising roosters as well as the hens who lay fertilized eggs that will hatch into chickens that will be raised for meat. These graduates of the Advanced Agricultural Leadership Program also grow peppers in their greenhouse. Christine serves on municipal council and has returned to school to take a Masters Degree. Jack is active as a leader in several farm organizations and enjoys travelling and spending time at their family cottage.
Sponsored by: Ontario Broiler Hatching Egg Chick Producers Association
October, 2011 - Mark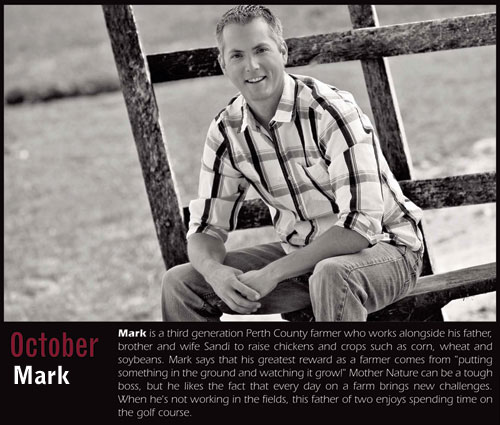 Mark is a third generation Perth County farmer who works alongside his father, brother and wife Sandi to raise chickens and crops such as corn, wheat and soybeans. Mark says that his greatest reward as a farmer comes from "putting something in the ground and watching it grow!" Mother Nature can be a tough boss, but he likes the fact that every day on a farm brings new challenges. When he's not working in the fields, this father of two enjoys spending time on the golf course.
November, 2011 - Katherine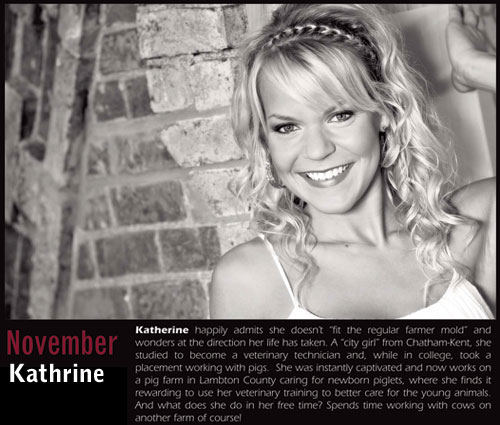 Katherine happily admits she doesn't "fit the regular farmer mold" and wonders at the direction her life has taken. A "city girl" from Chatham-Kent, she studied to become a veterinary technician and, while in college, took a placement working with pigs. She was instantly captivated and now works on a pig farm in Lambton County caring for newborn piglets, where she finds it rewarding to use her veterinary training to better care for the young animals. And what does she do in her free time? Works time with cows on another farm - of course!
December, 2011 - Anthony and Marj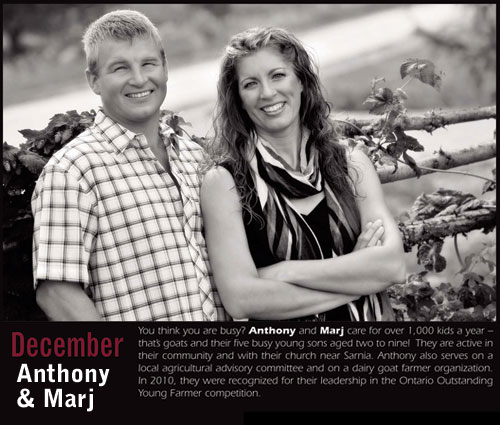 You think you are busy? Anthony and Marj care for over 1000 kids a year – that's goats and their five busy young sons aged two to nine! They are active in their community and with their church near Sarnia. Anthony also serves on a local agricultural advisory committee and on a dairy goat farmer organization. In 2010, they were recognized for their leadership in the Ontario Outstanding Young Farmer competition.