January, 2012 - Heiko, Wayne and Mike Oegema – St. Thomas, Ontario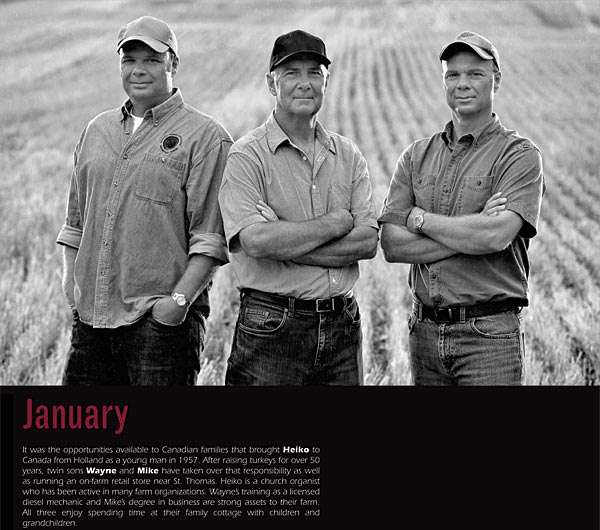 It was the opportunities available to Canadian families that brought Heiko to Canada from Holland as a young man in 1957. After raising turkeys for over 50 years, twin sons Wayne and Mike have taken over that responsibility as well as running an on-farm retail store near St. Thomas.
Heiko is a church organist who has been active in many farm organizations. Wayne's training as a licensed diesel mechanic and Mike's degree in business are strong assets to their farm. All three enjoy spending time at their family cottage with children and grandchildren.
February, 2012 - Cathy McKay – Port Perry, Ontario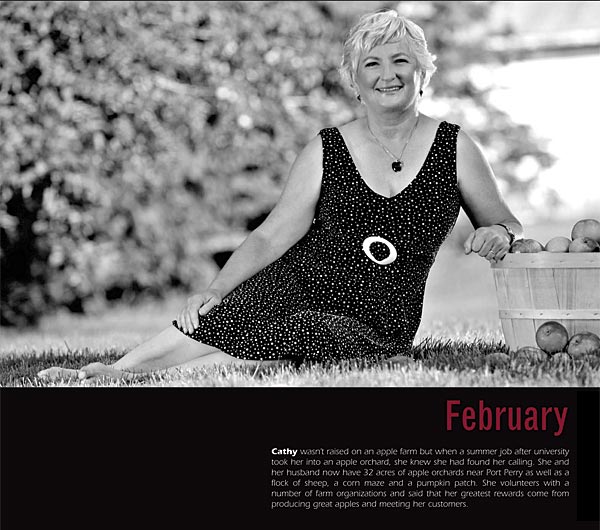 Cathy wasn't raised on an apple farm but when a summer job after university took her into an apple orchard, she knew she had found her calling. She and her husband now have 32 acres of apple orchards near Port Perry as well as a flock of sheep, a corn maze and a pumpkin patch. She volunteers with a number of farm organizations and said that her greatest rewards come from producing great apples and meeting her customers.
March, 2012 - Jim and Rob Judge – Simcoe, Ontario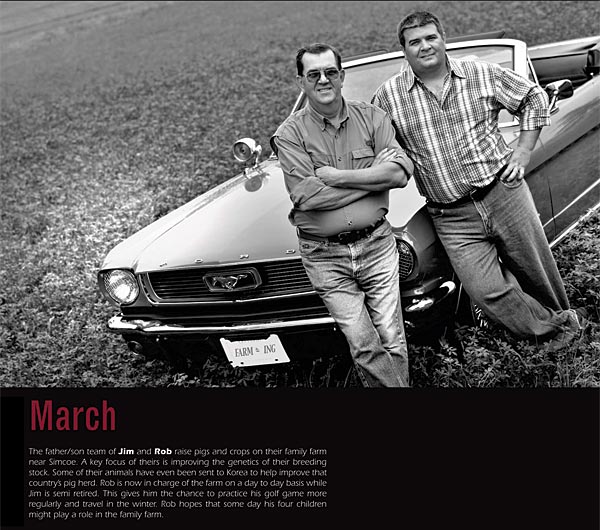 The father/son team of Jim and Rob raise pigs and crops on their family farm near Simcoe. A key focus of theirs is improving the genetics of their breeding stock. Some of their animals have even been sent to Korea to help improve that country's pig herd. Rob is now in charge of the farm on a day to day basis while Jim is semi retired. This gives him the chance to practice his golf game more regularly and travel in the winter. Rob hopes that some day his four children might play a role in the family farm.
April, 2012 - Amy and Emmy Cronin – Bluevale, Ontario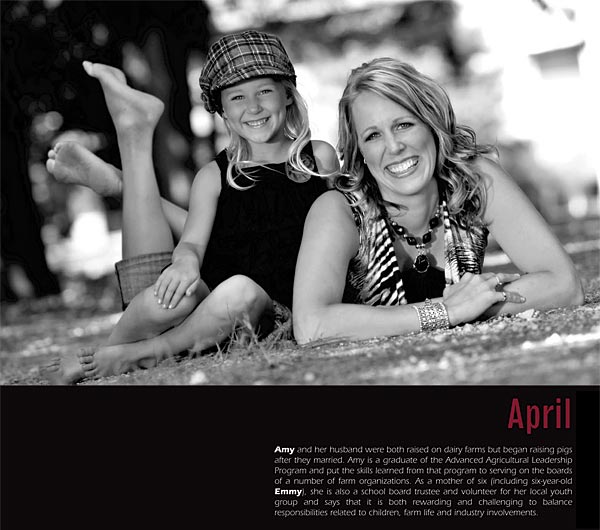 Amy and her husband were both raised on dairy farms but began raising pigs after they married. Amy is a graduate of the Advanced Agricultural Leadership Program and put the skills learned from that program to serving on the boards of a number of farm organizations. As a mother of six (including six-year-old Emmy), she is also a school board trustee and volunteer for her local youth group and says that it is both rewarding and challenging to balance responsibilities related to children, farm life and industry involvements.
Sponsored by: Molesworth Farm Supply Ltd.
May, 2012 - Darryl Drain – Tweed, Ontario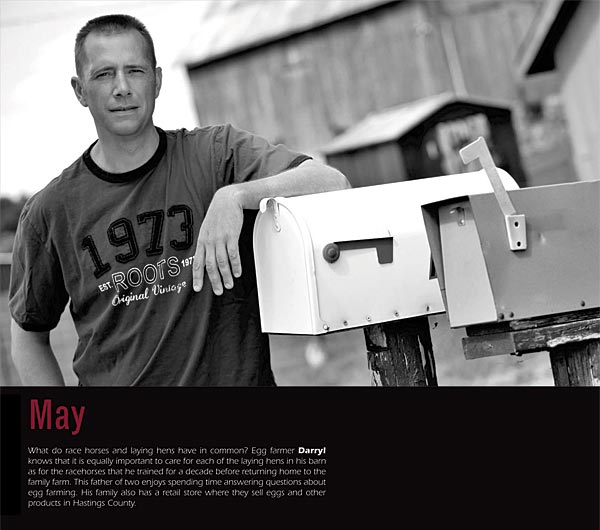 What do race horses and laying hens have in common? Egg farmer Darryl knows that it is equally important to care for each of the laying hens in his barn as for the racehorses that he trained for a decade before returning home to the family farm. This father of two enjoys spending time answering questions about egg farming. His family also has a retail store where they sell eggs and other products in Hastings County.
June, 2012 - David Murray - Mitchell, Ontario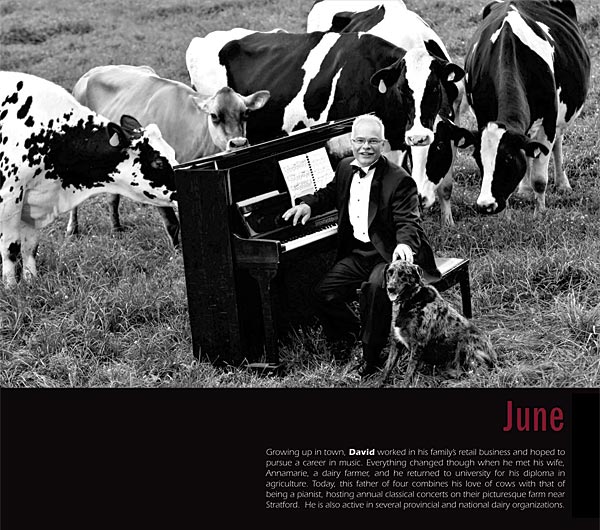 Growing up in town, David worked in his family's retail business and hoped to pursue a career in music. Everything changed though when he met his wife, Annamarie, a dairy farmer, and he returned to university for his diploma in agriculture. Today, this father of four combines his love of cows with that of being a pianist, hosting annual classical concerts on their picturesque farm near Stratford. He is also active in several provincial and national dairy organizations.
July, 2012 - Wim Duizer – Woodstock, Ontario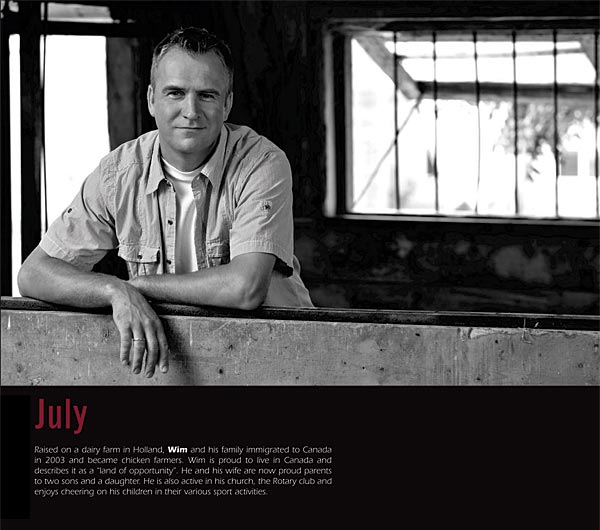 Raised on a dairy farm in Holland, Wim and his family immigrated to Canada in 2003 and became chicken farmers. Wim is proud to live in Canada and describes it as a "land of opportunity". He and his wife are now proud parents to two sons and a daughter. He is also active in his church, the Rotary club and enjoys cheering on his children in their various sport activities.
August, 2012 - Sandy Grant – Milton, Ontario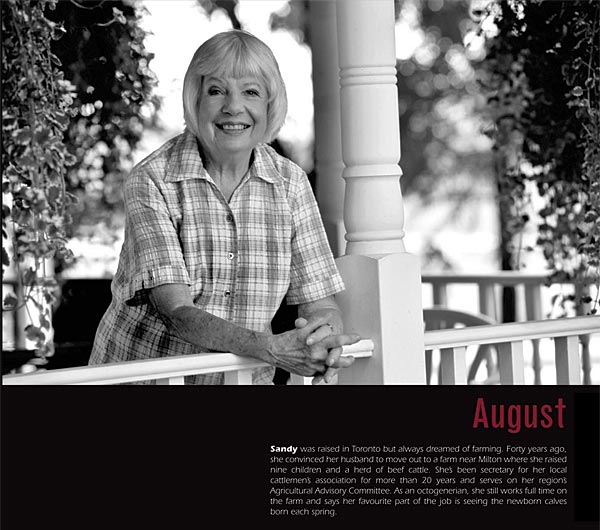 Sandy was raised in Toronto but always dreamed of farming. Forty years ago, she convinced her husband to move out to a farm near Milton where she raised nine children and a herd of beef cattle. She's been secretary for her local cattlemen's association for more than 20 years and serves on her region's Agricultural Advisory Committee. As an octogenerian, she still works full time on the farm and says her favourite part of the job is seeing the newborn calves born each spring.
September, 2012 - Jim Patton – Everett, Ontario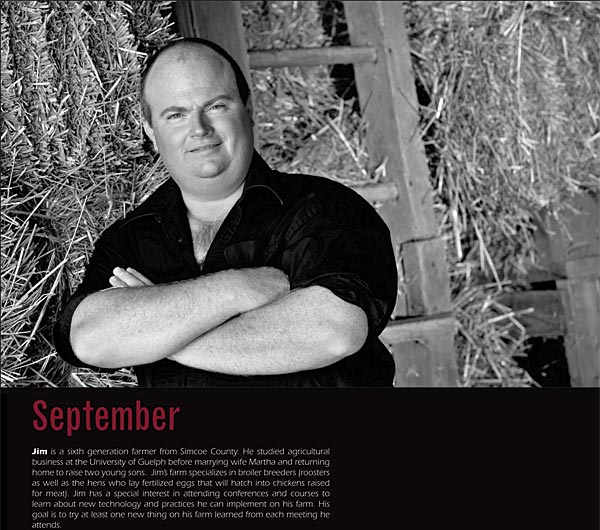 Jim is a sixth generation farmer from Simcoe County. He studied agricultural business at the University of Guelph before marrying wife Martha and returning home to raise two young sons. Jim's farm specializes in broiler breeders (roosters as well as the hens who lay fertilized eggs that will hatch into chickens raised for meat). Jim has a special interest in attending conferences and courses to learn about new technology and practices he can implement on his farm. His goal is to try at least one new thing on his farm learned from each meeting he attends.
Sponsored by: Ontario Broiler Chicken Hatching Egg Producers Association
October, 2012 - Erin Leduc – Moose Creek, Ontario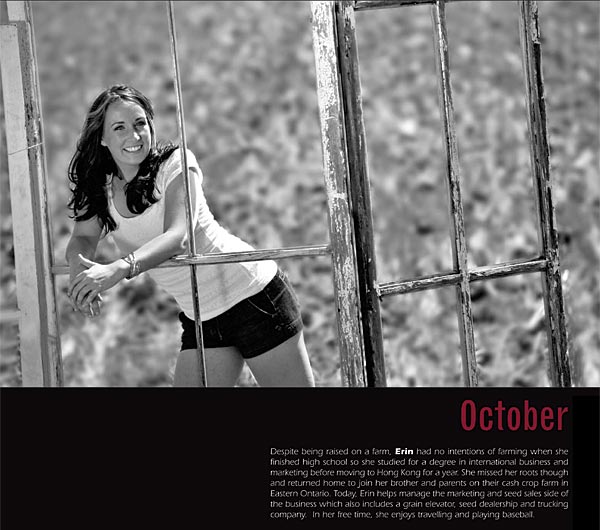 Despite being raised on a farm, Erin had no intentions of farming when she finished high school so she studied for a degree in international business and marketing before moving to Hong Kong for a year. She missed her roots though and returned home to join her brother and parents on their cash crop farm in Eastern Ontario. Today, Erin helps manage the marketing and seed sales side of the business which also includes a grain elevator, seed dealership and trucking company. In her free time, she enjoys travelling and playing baseball.
November, 2012 - Andrew Campbell – Appin, Ontario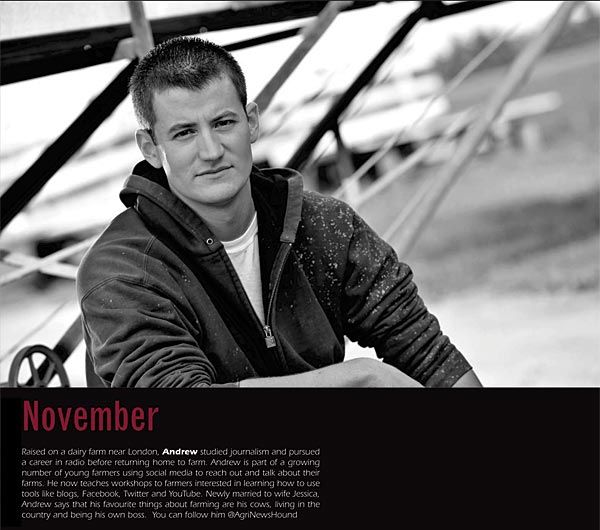 Raised on a dairy farm near London, Andrew studied journalism and pursued a career in radio before returning home to farm. Andrew is part of a growing number of young farmers using social media to reach out and talk about their farms. He now teaches workshops to farmers interested in learning how to use tools like blogs, Facebook, Twitter and YouTube. Newly married to wife Jessica, Andrew says that his favourite things about farming are his cows, living in the country and being his own boss. You can follow him @AgriNewsHound
December, 2012 - Wes and Briar Wiens – Niagara-on-the-Lake, Ontario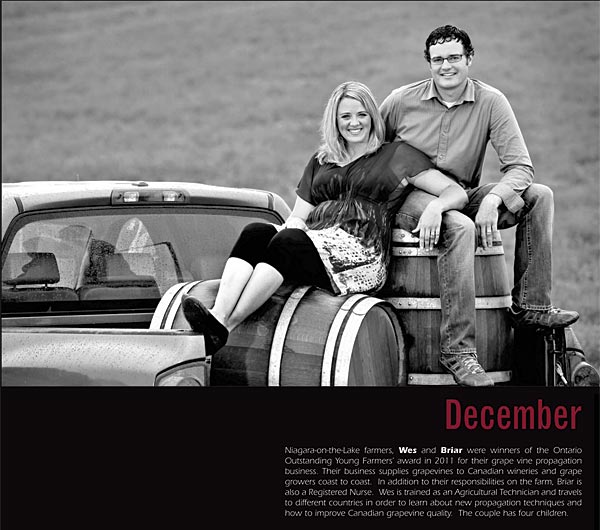 Niagara-on-the-Lake farmers, Wes and Briar were winners of the Ontario Outstanding Young Farmers' award in 2011 for their grape vine propagation business. Their business supplies grapevines to Canadian wineries and grape growers coast to coast. In addition to their responsibilities on the farm, Briar is also a Registered Nurse. Wes is trained as an Agricultural Technician and travels to different countries in order to learn about new propagation techniques and how to improve Canadian grapevine quality. The couple has four children.
January, 2012 - Stephanie Kowalski – Glencairn, Ontario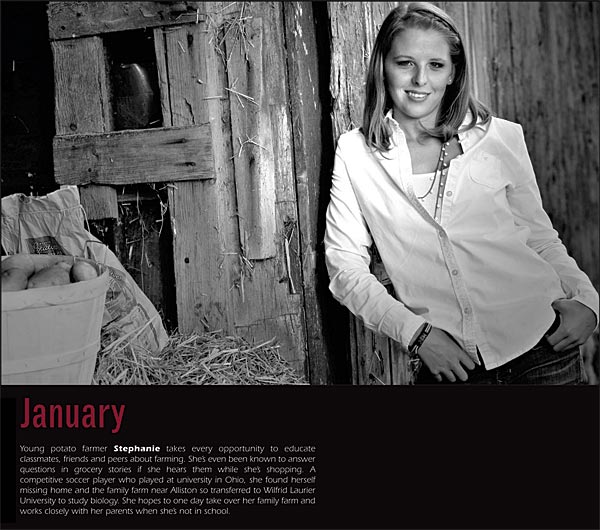 Young potato farmer Stephanie takes every opportunity to educate classmates, friends and peers about farming. She's even been known to answer questions in grocery stores if she hears them while she's shopping. A competitive soccer player who played at university in Ohio, she found herself missing home and the family farm near Alliston so transferred to Wilfrid Laurier University to study biology. She hopes to one day take over her family farm and works closely with her parents when she's not in school.