January, 2013 – Michelle Voskamp - Carrying Place, Ontario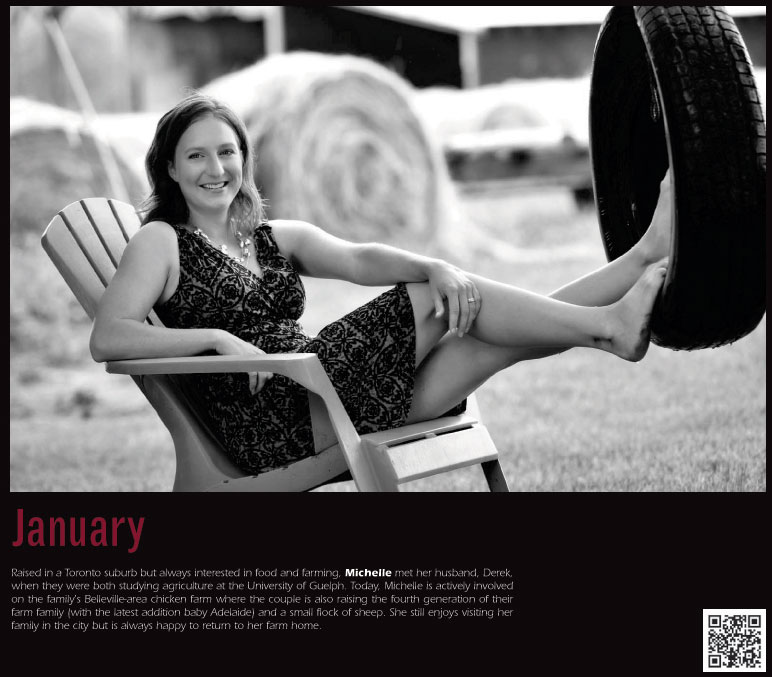 Raised in a Toronto suburb but always interested in food and farming, Michelle met her husband, Derek, when they were both studying agriculture at the University of Guelph. Today, Michelle is actively involved on the family's Belleville-area chicken farm where the couple is also raising the fourth generation of their farm family (with the latest addition baby Adelaide) and a small flock of sheep. She still enjoys visiting her family in the city but is always happy to return to her farm home.
February, 2013 - Justin and Jeff McLellan – Chatham, Ontario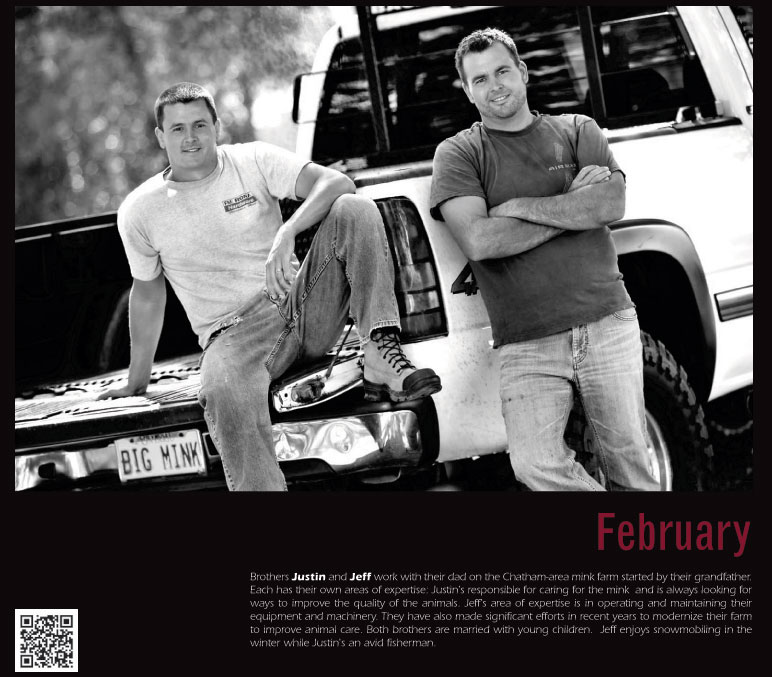 Brothers Justin and Jeff work with their dad on the Chatham-area mink farm started by their grandfather. Each has their own areas of expertise: Justin's responsible for caring for the mink and is always looking for ways to improve the quality of the animals. Jeff's area of expertise is in operating and maintaining their equipment and machinery. They have also made significant efforts in recent years to modernize their farm to improve animal care. Both brothers are married with young children. Jeff enjoys snowmobiling in the winter while Justin's an avid fisherman.
March, 2013 – Dan, Arlene, Adriana and Marissa Glofcheskie, Espanola, Ontario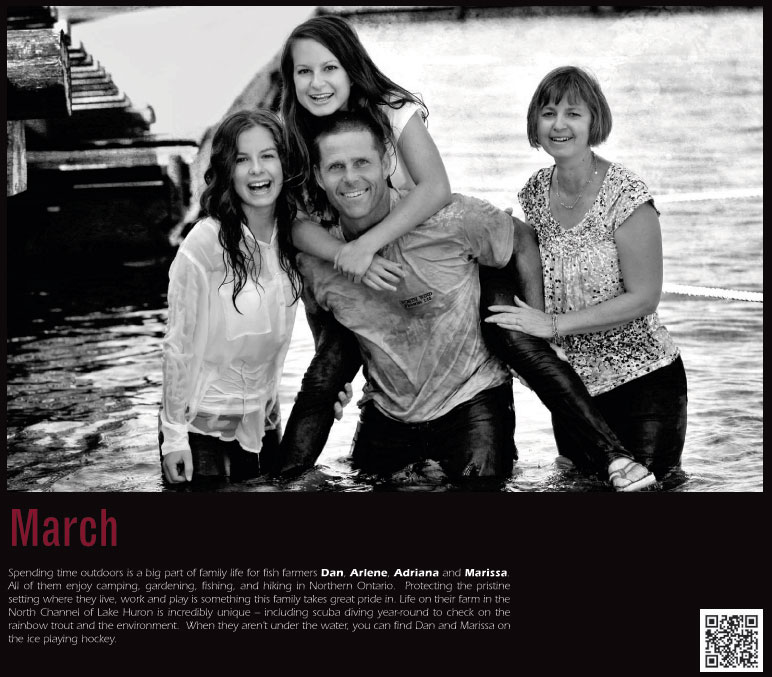 Spending time outdoors is a big part of family life for fish farmers Dan, Arlene, Adriana and Marissa. All of them enjoy camping, gardening, fishing, and hiking in Northern Ontario. Protecting the pristine setting where they live, work and play is something this family takes great pride in. Life on their farm in the North Channel of Lake Huron is incredibly unique – including scuba diving year-round to check on the trout and the environment. When they aren't under the water, you can find Dan and Marissa on the ice playing hockey.
April, 2013 – Harry, Paul, Steven and Evan Vanderzanden, St. Ann's, Ontario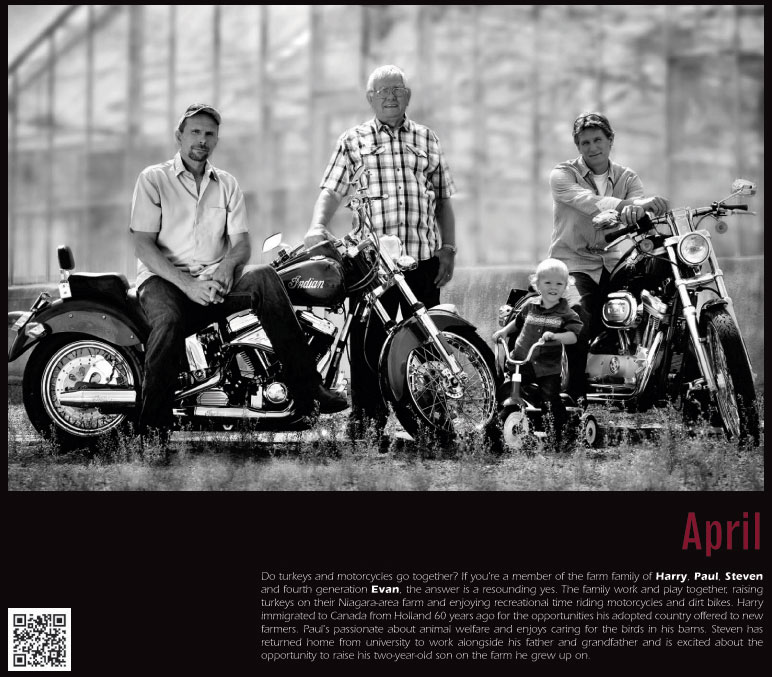 Do turkeys and motorcycles go together? If you're a member of the farm family of Harry, Paul, Steven and fourth generation Evan, the answer is a resounding yes. The family work and play together, raising turkeys on their Niagara-area farm and enjoying recreational time riding motorcycles and dirt bikes. Harry immigrated to Canada from Holland 60 years ago for the opportunities his adopted country offered to new farmers. Paul's passionate about animal welfare and enjoys caring for the birds in his barns. Steven has returned home from university to work alongside his father and grandfather and is excited about the opportunity to raise his two-year-old son on the farm he grew up on.
May, 2013 - Cindy, Leah and Emma Schillings – Oshawa, Ontario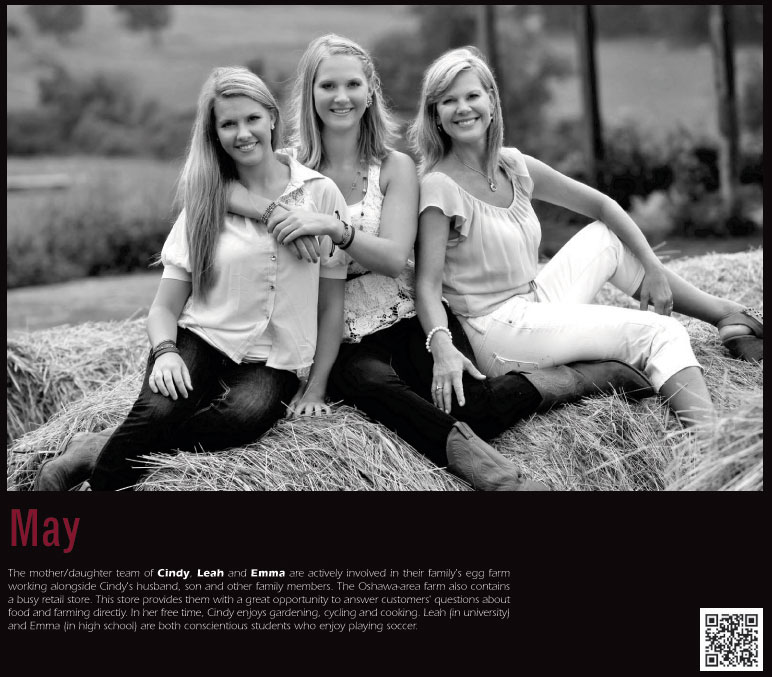 The mother/daughter team of Cindy, Leah and Emma are actively involved in their family's egg farm working alongside Cindy's husband, son and other family members. The Oshawa-area farm also contains a busy retail store. This store provides them with a great opportunity to answer customers' questions about food and farming directly. In her free time, Cindy enjoys gardening, cycling and cooking. Leah (in university) and Emma (in high school) are both conscientious students who enjoy playing soccer.
June, 2013 - Thelma Trask – Alma, Ontario
As a young bride 56 years ago, Thelma was given a rolling pin as a gift. In the years since, that prized possession has been used to make tens of thousands of pies for church and community events (5,000 alone in the 12 years since she started keeping track). Thelma and her husband Morley raised six children on their dairy farm in Wellington County. Her countless treasured memories of their farm life include teaching her husband to dance many years ago between the rows of cow stalls in the barn. Today, two of her sons and grandsons are also working on the farm.
July, 2013 - Anita Buehner – Waterford, Ontario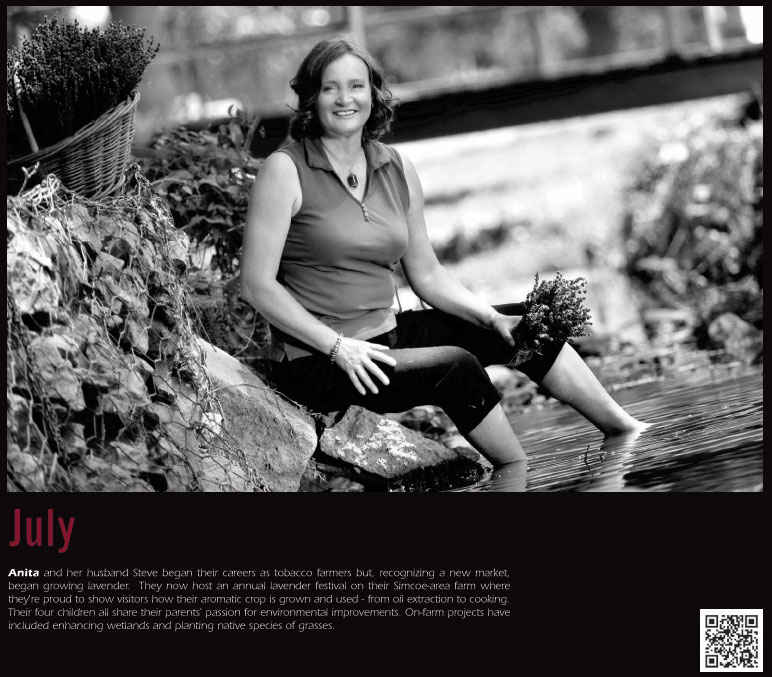 Anita and her husband Steve began their careers as tobacco farmers but, recognizing a new market, began growing lavender. They now host an annual lavender festival on their Simcoe-area farm where they're proud to show visitors how their aromatic crop is grown and used - from oil extraction to cooking. Their four children all share their parents' passion for environmental improvements. On-farm projects have included enhancing wetlands and planting native species of grasses.
August, 2013 - Fred and Gerald Van Osch – Mount Carmel, Ontario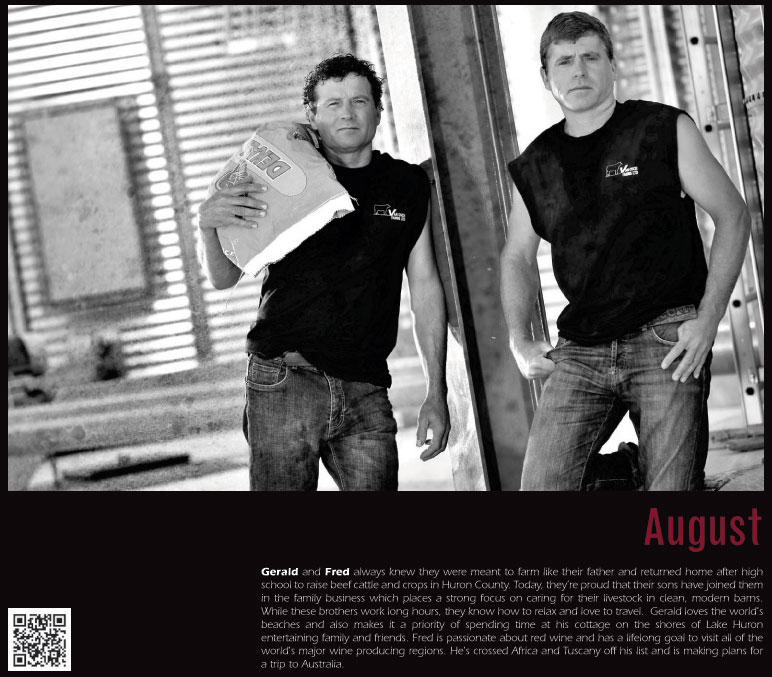 Gerald and Fred always knew they were meant to farm like their father and returned home after high school to raise beef cattle and crops in Huron County. Today, they're proud that their sons have joined them in the family business which places a strong focus on caring for their livestock in clean, modern barns. While these brothers work long hours, they know how to relax and love to travel. Gerald loves the world's beaches and also makes it a priority of spending time at his cottage on the shores of Lake Huron entertaining family and friends. Fred is passionate about red wine and has a lifelong goal to visit all of the world's major wine producing regions. He's crossed Africa and Tuscany off his list and is making plans for a trip to Australia.
September, 2013 - Kelsey Ottens – Petrolia, Ontario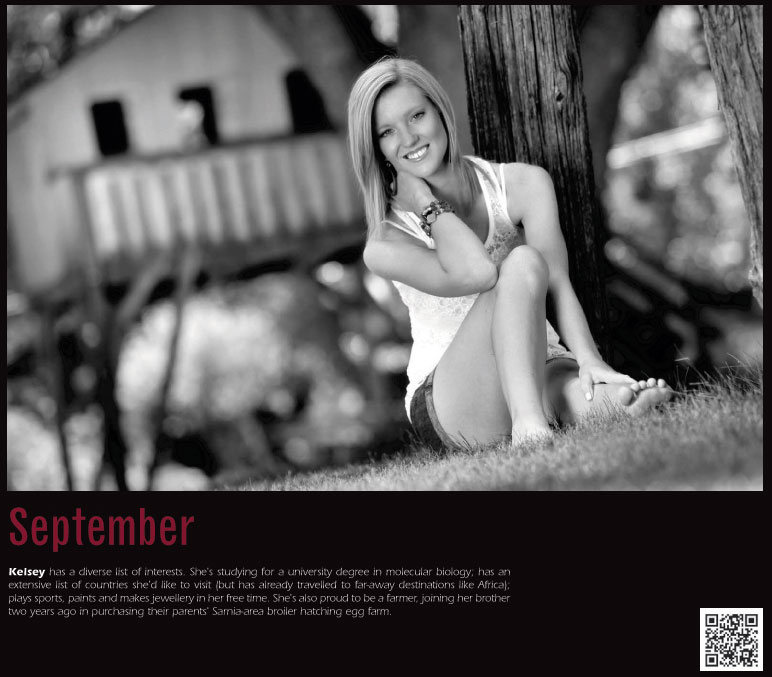 Kelsey has a diverse list of interests. She's studying for a university degree in molecular biology; has an extensive list of countries she'd like to visit (but has already travelled to far-away destinations like Africa); plays sports, paints and makes jewellery in her free time. She's also proud to be a farmer, joining her brother two years ago in purchasing their parents' Sarnia-area broiler hatching egg farm.
Sponsored by: Ontario Broiler Chicken Hatching Egg Producers Association
October, 2013 - Justin Dorland – Brighton, Ontario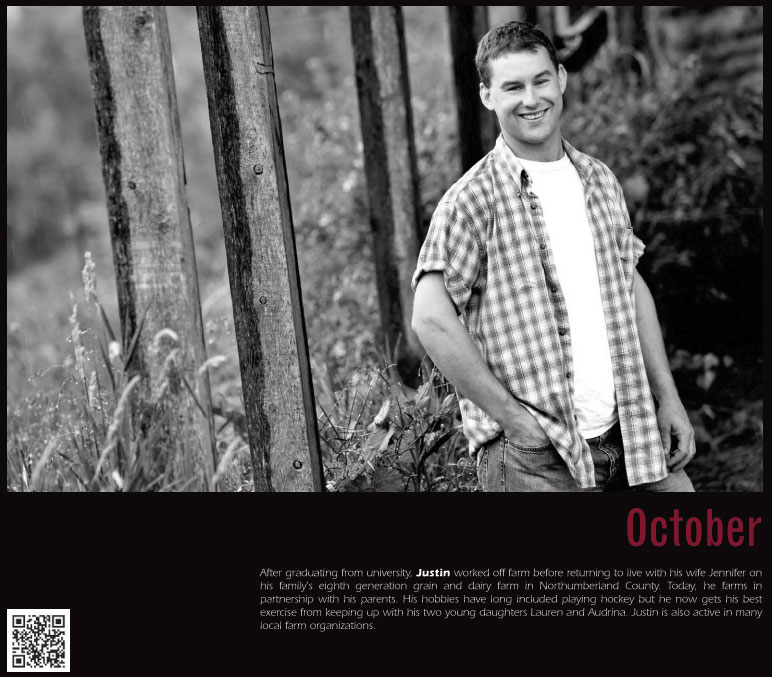 After graduating from university, Justin worked off farm before returning to live with his wife Jennifer on his family's eighth generation grain and dairy farm in Northumberland County. Today, he farms in partnership with his parents. His hobbies have long included playing hockey but he now gets his best exercise from keeping up with his two young daughters Lauren and Audrina. Justin is also active in many local farm organizations.
November, 2013 - Stephanie Campbell – Perth, Ontario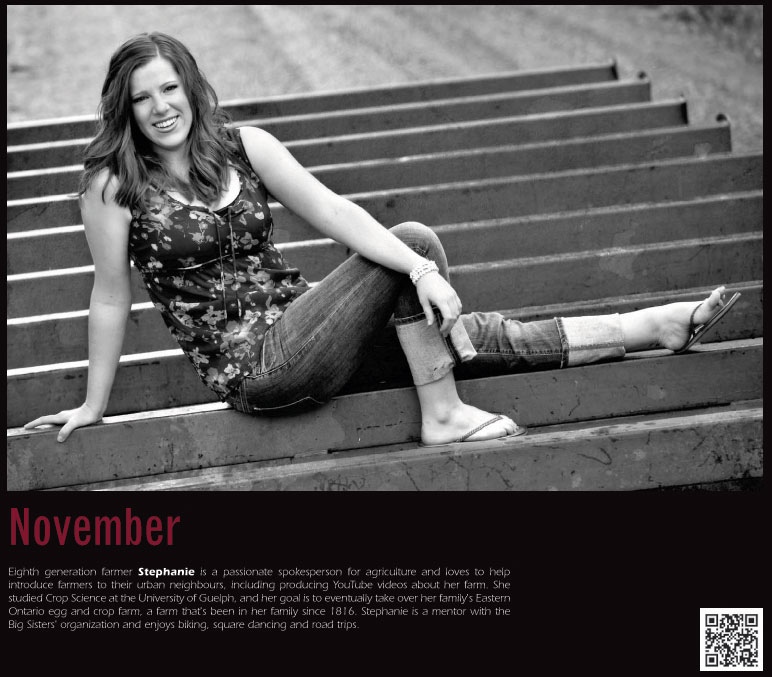 Eighth generation farmer Stephanie is a passionate spokesperson for agriculture and loves to help introduce farmers to their urban neighbours, including producing YouTube videos about her farm. She studied Crop Science at the University of Guelph, and her goal is to eventually take over her family's Eastern Ontario egg and crop farm, a farm that's been in her family since 1816. Stephanie is a mentor with the Big Sisters' organization and enjoys biking, square dancing and road trips.
December, 2013 - Cory and Heidi Van Groningen – Cayuga, Ontario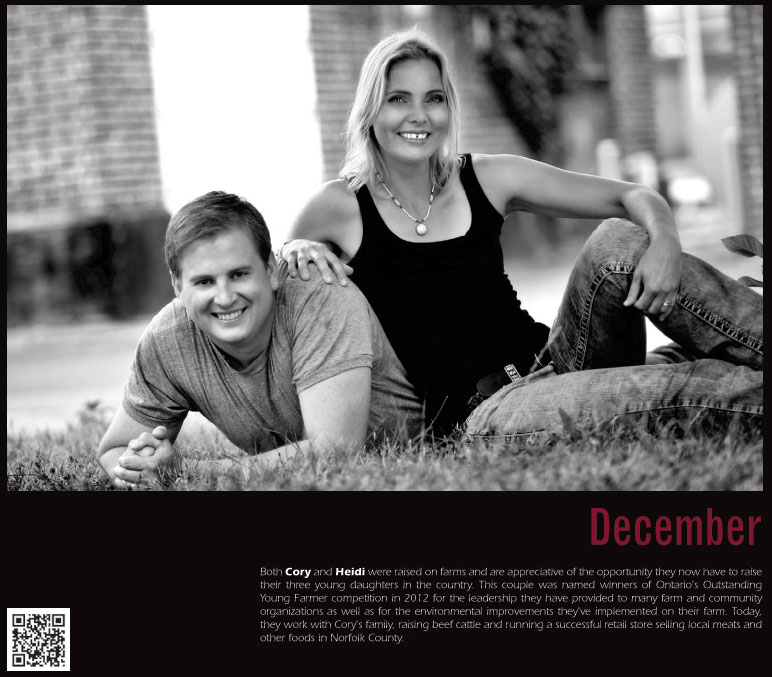 Both Cory and Heidi were raised on farms and are appreciative of the opportunity they now have to raise their three young daughters in the country. This couple was named winners of Ontario's Outstanding Young Farmer competition in 2012 for the leadership they have provided to many farm and community organizations as well as for the environmental improvements they've implemented on their farm. Today, they work with Cory's family, raising beef cattle and running a successful retail store selling local meats and other foods in Norfolk County.
January, 2014 - Julie Moore and Bob McMillan – Gadshill, Ontario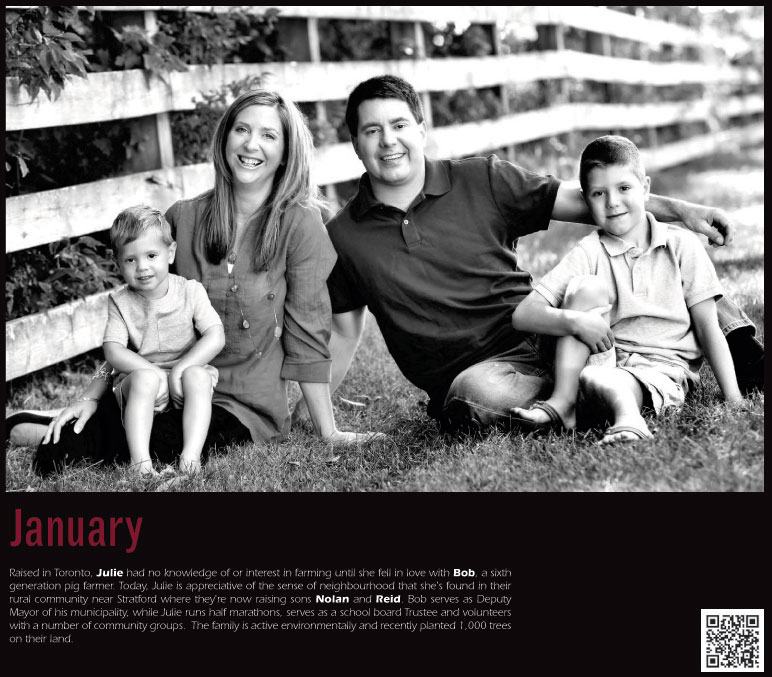 Raised in Toronto, Julie had no knowledge of or interest in farming until she fell in love with Bob, a sixth generation pig farmer. Today, Julie is appreciative of the sense of neighbourhood that she's found in their rural community near Stratford where they're now raising sons Nolan and Reid. Bob serves as Deputy Mayor of his municipality, while Julie runs half marathons, serves as a school board Trustee and volunteers with a number of community groups. The family is active environmentally and recently planted 1,000 trees on their land.