New 2009 calendar features faces of Ontario's farmers.
January 2009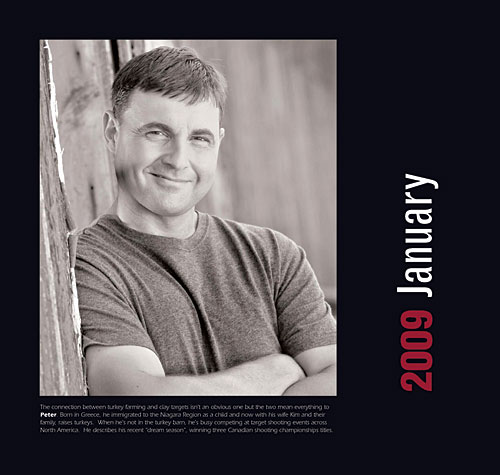 The connection between turkey farming and clay targets isn't an obvious one but the two mean everything to Peter. Born in Greece, he immigrated to the Niagara Region as a child and now with his wife Kim and their family, raises turkeys. When he's not in the turkey barn, he's busy competing at target shooting events across North America. He describes his recent "dream season", winning three Canadian shooting championship titles.
February 2009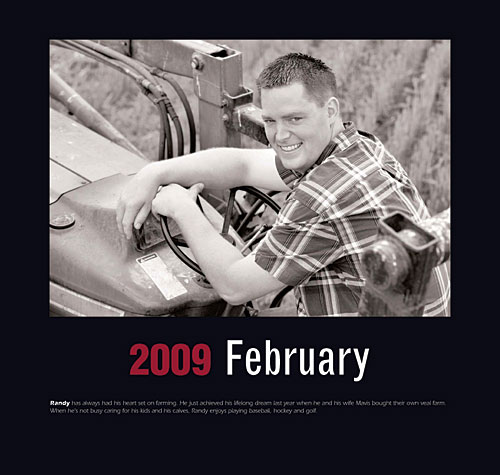 Randy has always had his heart set on farming. He just achieved his lifelong dream last year when he and his wife Mavis bought their own veal farm. When he's not busy caring for his kids and his calves, Randy enjoys playing baseball, hockey and golf.
March 2009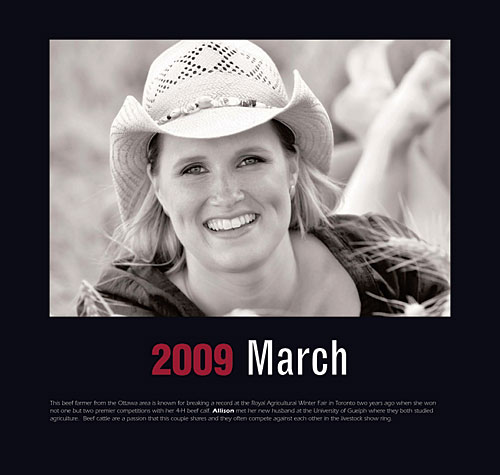 This beef farmer from the Ottawa area is known for breaking a record at the Royal Agricultural Winter Fair in Toronto two years ago when she won not one but two premier competitions with her 4-H beef calf. Allison met her new husband at the University of Guelph where they both studied agriculture. Beef cattle are a passion that this couple shares and they often compete against each other in the livestock show ring.
April 2009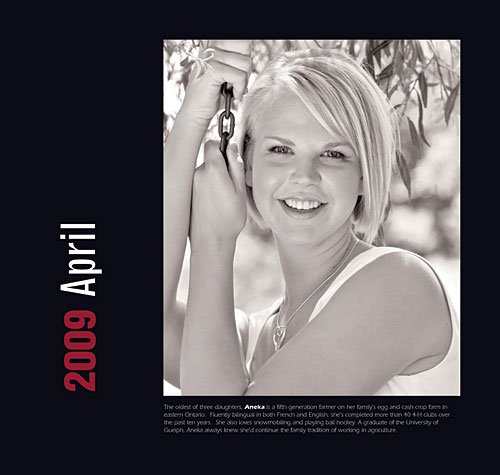 The oldest of three daughters, Aneka is a fifth generation farmer on her family's egg and cash crop farm in eastern Ontario. Fluently bilingual in both French and English, she's completed more than 40 4-H clubs over the past ten years. She also loves snowmobiling and playing ball hockey. A graduate of the University of Guelph, Aneka always knew she'd continue the family tradition of working in agriculture.
May 2009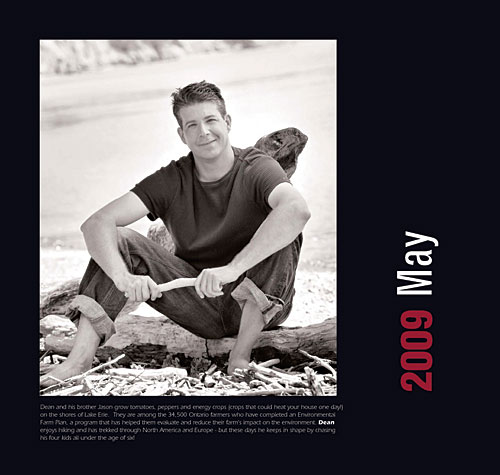 Dean and his brother Jason grow tomatoes, peppers and energy crops (crops that could heat your house one day!) on the shores of Lake Erie. They are among the 34,500 Ontario farmers who have completed an Environmental Farm Plan, a program that has helped them evaluate and reduce their farm's impact on the environment. Dean enjoys hiking and has trekked through North America and Europe – but these days he keeps in shape by chasing his four kids all under the age of six!
June 2009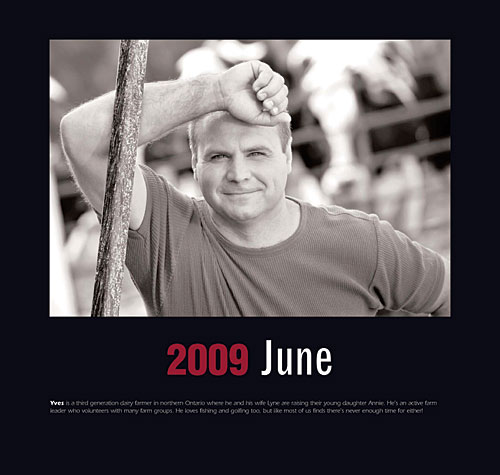 Yves is a third generation dairy farmer in northern Ontario where he and his wife Lyne are raising their young daughter Annie. He's an active farm leader who volunteers with many farm groups. He loves fishing and golfing too, but like most of us finds there's never enough time for either!
July 2009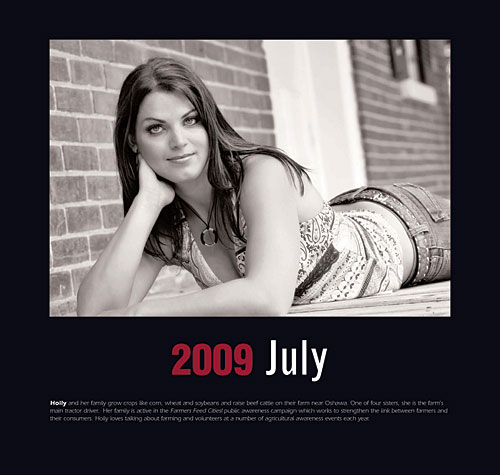 Holly and her family grow crops like corn, wheat and soybeans and raise beef cattle on their farm near Oshawa. One of four sisters, she's the farm's main tractor driver. Her family is active in the Farmers Feed Cities! Public awareness campaign which works to strengthen the link between farmers and their consumers. Holly loves talking about farming and volunteers at a number of agricultural awareness events each year.
August 2009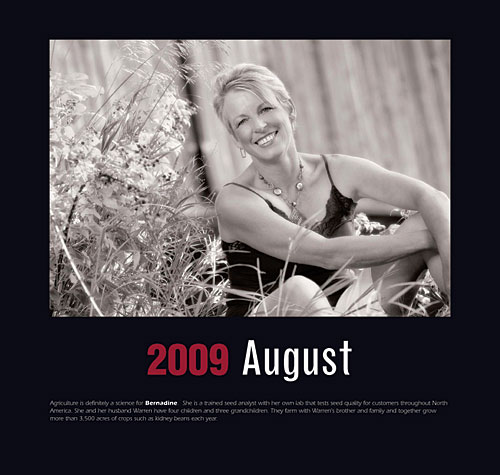 Agriculture is definitely a science for Bernadine. She is a trained seed analyst with her own lab that tests seed quality for customers throughout North America. She and her husband Warren have four children and three grandchildren. They farm with Warren's brother and family and together grow more than 3,500 acres of crops such as kidney beans each year.
September 2009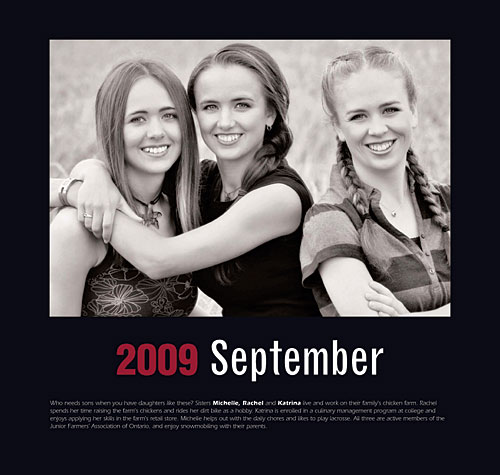 Who needs sons when you have daughters like these? Sisters Michelle, Rachel and Katrina live and work on their family's chicken farm. Rachel spends her time raising the farm's chickens and rides her dirt bike as a hobby. Katrina is enrolled in a culinary management program at college and enjoys applying her skills in the farm's retail store. Michelle helps out with the daily chores and likes to play lacrosse. All three are active members of the Junior Farmers' Association of Ontario and enjoy snowmobiling with their parents.
October 2009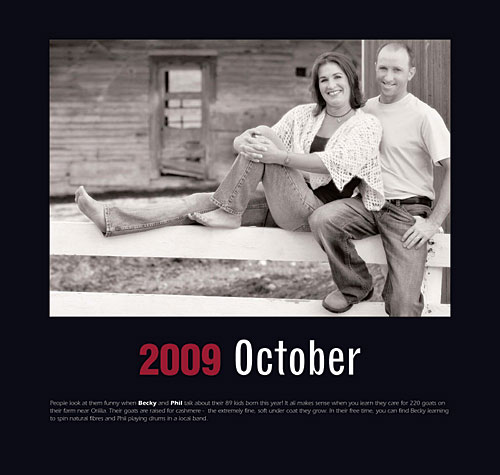 People look at them funny when Becky and Phil talk about their 89 kids born this year! It all makes sense when you learn they care for 200 goats on their farm near Orillia. Their goats are raised for cashmere – the extremely fine, soft under coat they grow. In their free time, you can find Becky learning to spin natural fibres and Phil playing drums in a local band.
November 2009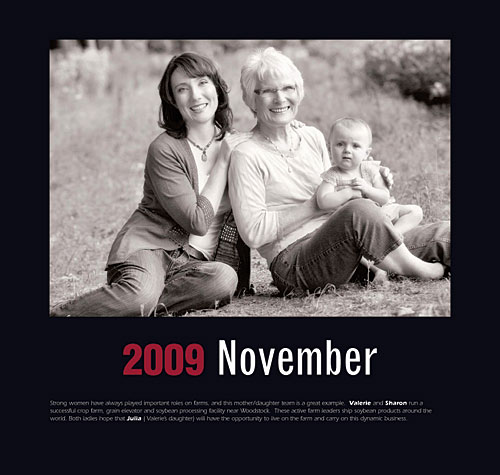 Strong women have always played important roles on farms and this mother/daughter team is a great example. Valerie and Sharon run a successful crop farm, grain elevator and soybean processing facility near Woodstock. These active farm leaders ship soybean products around the world. Both ladies hope that Julia (Valerie's daughter) will have the opportunity to live on the farm and carry on this dynamic business.
December 2009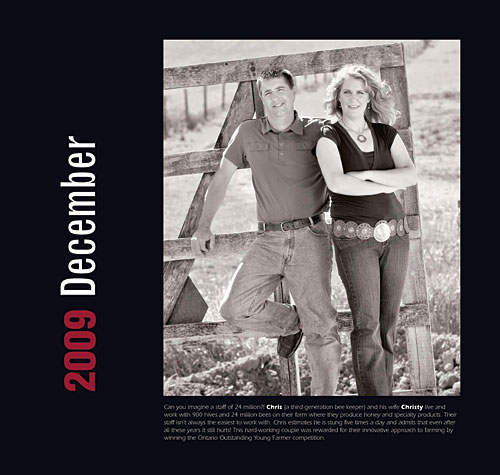 Can you imagine a staff of 24 million?! Chris (a third generation bee keeper) and his wife Christy live and work with 900 hives and 24 million bees on their farm where they produce honey and specialty products. Their staff isn't always the easiest to work with. Chris estimates he is stung five times a day and admits that even after all these years it still hurts! This hard-working couple was rewarded for their innovative approach to farming by winning the Ontario Outstanding Young Farmer competition
January 2010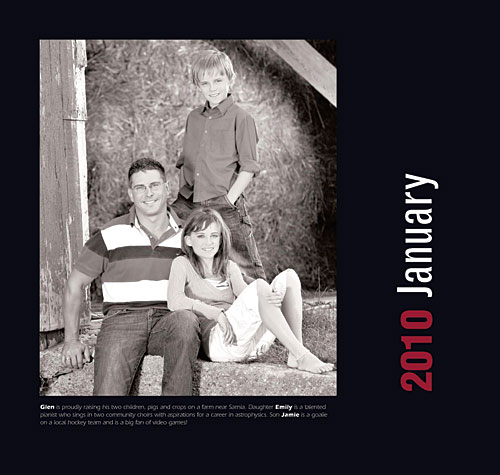 Glen is proudly raising his two children, pigs and crops on a farm near Sarnia. Daughter Emily is a talented pianist who sings in two community choirs with aspirations for a career in astrophysics. Son Jamie is a goalie on a local hockey team and is a big fan of video games!
Back Cover