New 2008 calendar features faces of Ontario's farmers.
January 2008 - Scott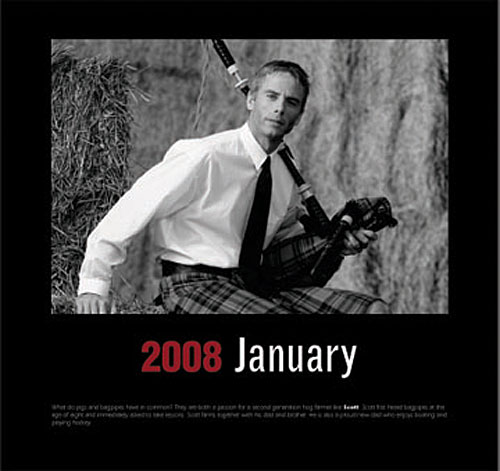 What do pigs and bagpipes have in common? They are both a passion for second generation hog farmer like Scott. Scott first heard bagpipes at the age of eight and immediately asked to take lessons. Scott farms together with his dad and brother. He is also a proud new dad who enjoys boating and playing hockey.
Hear an interview with Scott

February 2008 - Kelly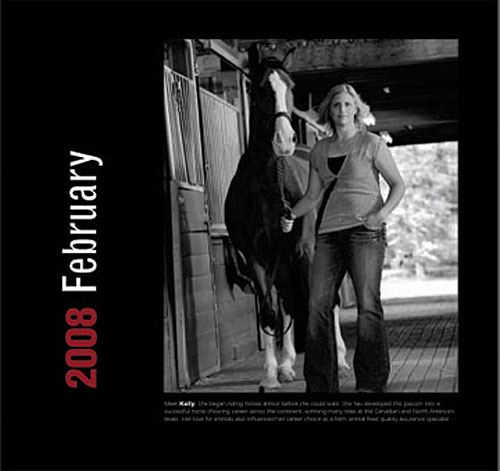 Meet Kelly. She began riding horses almost before she could walk. She has developed this passion into a successful horse showing career across the continent, winning many titles at the Canadian and North American levels. Her love for animals also influenced her career choice as a farm animal feed quality assurance specialist.
March 2008 - Peter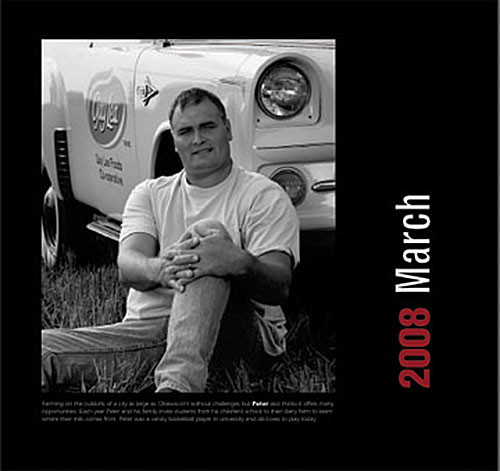 Farming on the outskirts of a city as large as Ottawa isn't without challenges but Peter also thinks it offers many opportunities. Each year Peter and his family invite students from his children's school to their dairy farm to learn where their milk comes from. Peter was a varsity basketball player in university and still loves to play today.
Hear an interview with Peter

April 2008 - Andy and Bonnie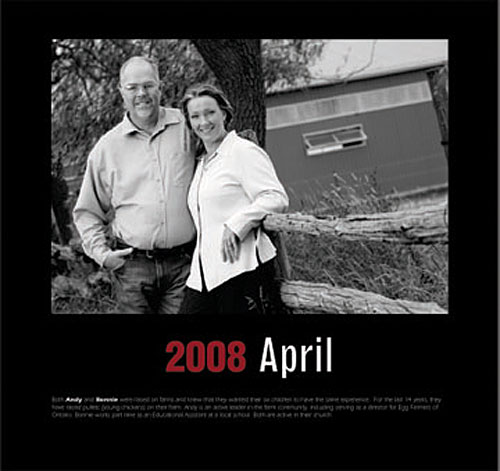 Both Andy and Bonnie were raised on farms and knew that they wanted their six children to have the same experience. For the last 14 years, they have raised pullets (young chickens) on their farm. Andy is an active leader in the farm community, including serving as a director for Egg Farmers of Ontario. Bonnie works part time as an Educational Assistant at a local school. Both are active in their church.
Hear an interview with Andy & Bonnie

May 2008 - Kristin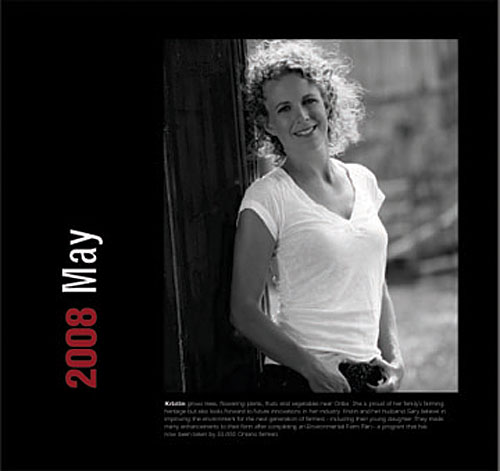 Kristin grows trees, flowering plants, fruits and vegetables near Orillia. She is proud of her family's farming heritage but also looks forward to future innovations in her industry. Kristin and her husband Gary believe in improving the environment for the next generation of farmers – including their young daughter. They made many enhancements to their farm after completing an Environmental Farm Plan – a program that has now been taken by 33,000 Ontario farmers.
Hear an interview with Kristin

June 2008 - Matt and Jill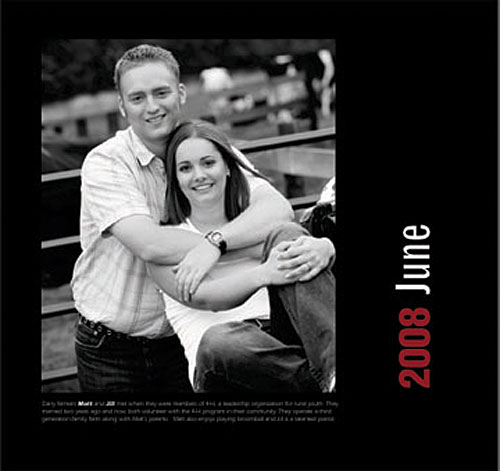 Dairy farmers Matt and Jill met when they were members of 4-H, a leadership organization for rural youth. They married two years ago and now both volunteer with the 4-H program in their community. They operate a third generation family farm along with Matt's parents. Matt also enjoys playing broomball and Jill is a talented pianist.
Hear an interview with Matt & Jill

July 2008 - Don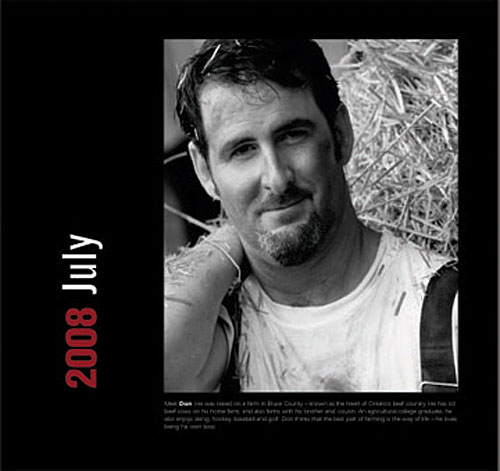 Meet Don. He was raised on a farm in Bruce County – known as the heart of Ontario's beef country. He now has 60 beef cows of his own and farms with his brother and his cousin. An agricultural college graduate, he also enjoys skiing, hockey, baseball and golf. Don thinks that the best part of farming is the way of life – he loves being his own boss.
Hear an interview with Don

August 2008 - Brian and Maggie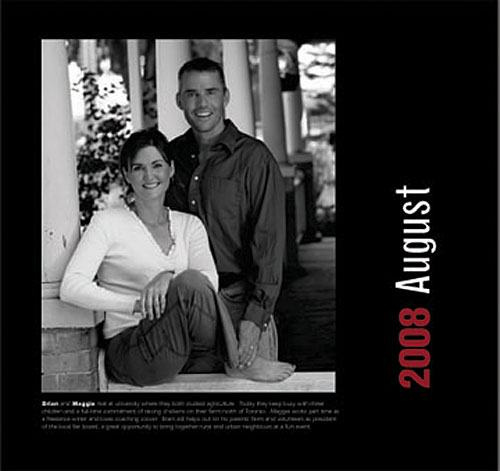 Brian and Maggie met at university where they both studied agriculture. Today they keep busy with three children and a full-time commitment of raising chickens on their farm north of Toronto. Maggie works part time as a freelance writer and loves coaching soccer. Brian still helps out on his parents' farm and volunteers as president of the local fair board, a great opportunity to bring together rural and urban neighbours at a fun event.
Hear an interview with Brian & Maggie

September 2008 - Ryan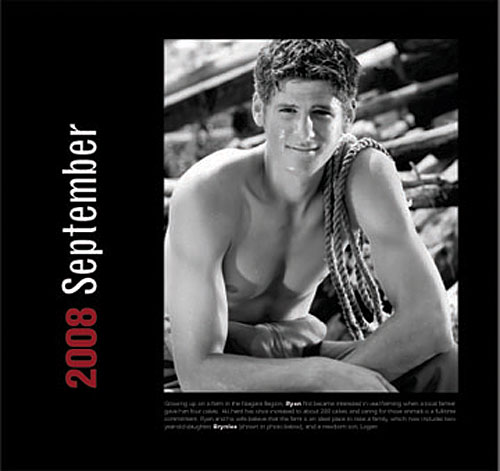 Growing up on a farm in Niagara Region, Ryan first became interested in veal farming when a local farmer gave him four calves. His herd has since increased to about 200 calves and caring for those animals is a full-time commitment. Ryan and his wife believe that the farm is an ideal place to raise a family, which now includes two-year-old daughter, Brynlea, and a newborn son, Logan.
Hear an interview with Ryan

October 2008 - Bonnie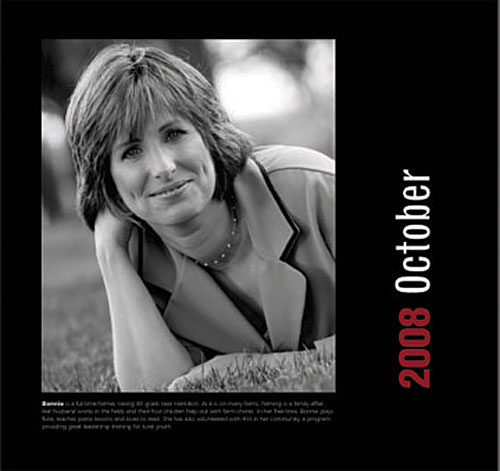 Bonnie is a full time farmer, raising 80 goats near Hamilton. As it is on many farms, farming is a family affair. Her husband works in the fields and their four children help out with farm chores. In her free time, Bonnie plays flute, teaches piano lessons and loves to read. She has also volunteered with 4-H in her community, a program providing great leadership training for rural youth.
Hear an interview with Bonnie

November 2008 - Leo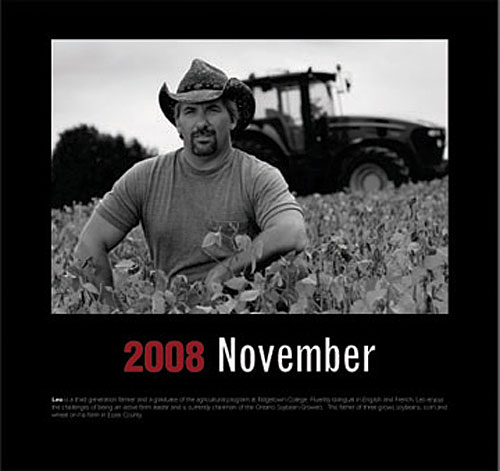 Leo is a third generation farmer and a graduate of the agricultural program at Ridgetown College. Fluently bilingual in English and French, Leo enjoys the challenges of being an active farm leader and is currently chairman of the Ontario Soybean Growers. This father of three grows soybeans, corn and wheat on his farm in Essex County.
December 2008 - Elaine and Lindsay Jayne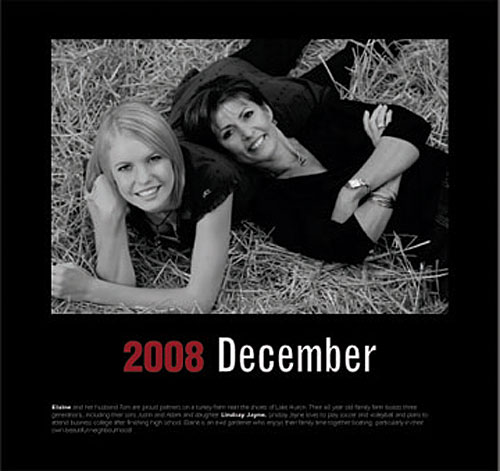 Elaine and her husband Tom are proud partners in a turkey farm near the shores of Lake Huron. Their 60 year old family farm boasts three generations, including their sons Justin and Adam and daughter Lindsay Jayne. Lindsay Jayne loves to play soccer and volleyball and plans to attend business college after finishing high school. Elaine is an avid gardener who enjoys boating, particularly in their own beautiful neighbourhood!
Hear an interview with Elaine

January 2010 - Lance and Alex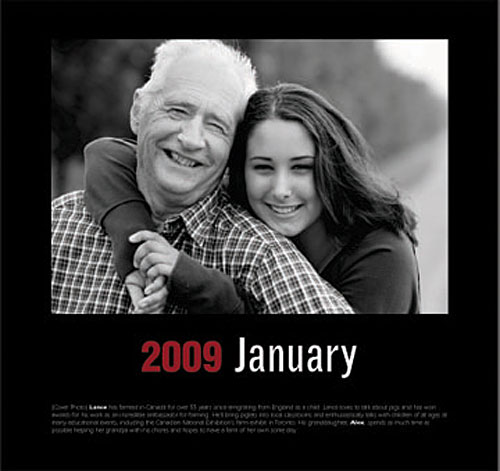 Lance has farmed in Canada for over 55 years since emigrating from England as a child. Lance loves to talk about pigs and has won awards for his work as an incredible ambassador for farming. He'll bring piglets into local classrooms and enthusiastically talks with children of all ages at many educational events, including the Canadian National Exhibition's farm exhibit in Toronto. His granddaughter, Alex, spends as much time as possible helping her grandpa with his chores and hopes to have a farm of her own some day.
Hear an interview with Lance & Alex

Back Cover